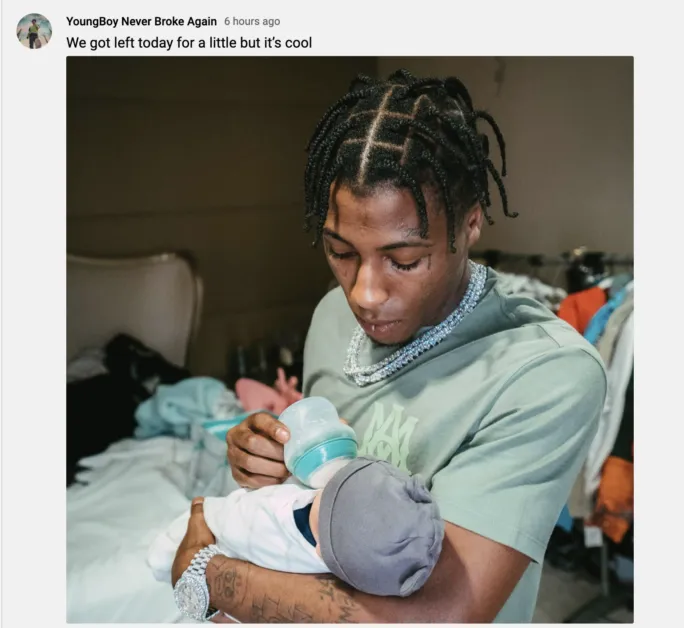 NBA YoungBoy Welcomes His Tenth Child, A Baby Boy
NBA YoungBoy has welcomed a new addition to this family and is celebrating the arrival of a baby boy with his fiancée Jazlyn Mychelle.
Earlier this month, the Louisiana rapper revealed he was expecting his tenth child and second with his fiancée. The couple already shares a daughter born in 2021. NBA YoungBoy announced the pregnancy during the video for his latest single "Purge Me." The visual featured a heavily pregnant Jazlyn unveiling the news.
On Wednesday (Sept. 28), he shared a photo on his YouTube channel of himself holding and feeding his newborn baby. "We got left today for a little but it's cool," the 22-year-old rapper penned in the caption.
NBA YoungBoy welcomes his child months after announcing he and Jazlyn Mychelle were engaged. He posted a photo of his fiancée tenderly cradling her blossoming baby bump while rocking a dazzling diamond ring.
Jazlyn Mychelle posted a video on her YouTube channel earlier this month revealing they were expecting a boy. "Look at this little outfit, so cute," she said in the video. "Can you believe I'm having a boy? I never thought I would have a boy." Later in the video, YoungBoy and Jazlyn prepare for their impending arrival by putting together a stroller.
Elsewhere on Wednesday, Chart Data announced YoungBoy achieved another accolade to add to his growing list. The rapper has now earned over 5 billion on-demand streams in the US this year. Drake is the only other artist to achieve this milestone.
Source: TSB News

Disclaimer: No copyright infringement intended. All rights and credits reserved to respective owner(s).