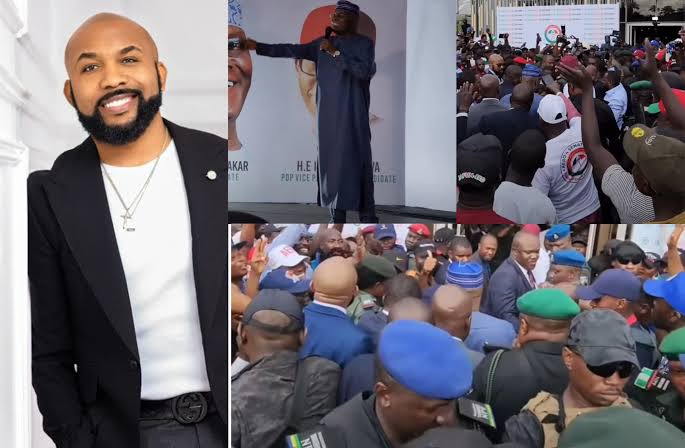 Fans rain curses on Banky W for endorsing Atiku as president
Popular singer, actor turned politician Bankole Wellington better known as Banky W or Mr Incredible has gotten into trouble with his fans over his endorsement of PDP presidential candidate, Atiku Abubakar.
The singer is a member of the Peoples Democratic Party (PDpP) and as such, it wasn't surprising for him to endorse his party candidate.
Atiku Abubakar was given a befitting welcome as he visited the singer's constituency, Eti-Osa.
Sharing a video of his visit, Banky W revealed that they attended the Lagos Chamber of Commerce Economic Forum and had a meeting to rally the Lagos PDP troops towards the 2023 elections.
"It was a pleasure to welcome our Presidential candidate His Excellency @aatiku and our Gubernatorial candidate H.E @officialjandor to Eti-Osa last week, as we attended the Lagos Chamber of Commerce Economic forum, and a meeting to rally the Lagos PDP troops towards the 2023 elections".
Many of his fans were left disappointed and displeased with his post as they lashed out at him in the comment section.
One Dwise wrote, "Right candidate surrounding himself with the wrong people, wish you well but we no dey vote Atiku
One Tor3ll wrote, "I wish you didn't join the PDP. Cos you too defined for such criminal party. But anyways we voting Obi
One Fabulous Kassi wrote, "It's funny how you guys switch lanes selfishly. So because you are in PDP, you rae supporting Atiku, I thought you were one of the few pushing for the youths to rule…na wa for who dey believe una. Selfishness us what guides your ambitions obviously.
One Emma Chris Praise wrote, "I'm amazed you endorse Atiku. You w
One Tunde Mafoo wrote, "Guys and Banky whatever…none of them can be trusted… shit people
One Rotimi Tosin wrote, "All of una dey mad
One Bomario Mastermind wrote, "You dey phyuk up I taught you are a good man".


Source: TSB News

Disclaimer: No copyright infringement intended. All rights and credits reserved to respective owner(s).