Actress Bimpe Akintunde sets to become Ooni of Ife's wife as second bride is unveiled
Nollywood actress Bimpe Akintunde has said she is set to be welcomed into the palace of the Ooni of Ife as a new wife, seeing that different women are now being married to the royal father.
This is coming after news leaked that the Ooni of Ife, Oba Adeyeye Enitan Ogunwusi, Ojaja II, has concluded plans to take another bride as a second wife barely 24 hours after taking in a new bride, Mariam Anako.
Recall that the Ooni officially welcomed his new wife, Mariam Anako into the palace on Wednesday, September 7th, after the completion of their marital rites, and videos from the function went viral on social media.
After his marriage to Mariam, a team of Chiefs from the Palace in Ile-Ife, Osun State, on Wednesday, visited the family of another bride-to-be, Dr. Elizabeth Opeoluwa Akinmuda, in the Magodo area of Lagos.
And not only that, popular blogger, Kemi Ashefon also announced that another woman, Omo Oba Adegoke, Aya Adimula Ashely Afolashade will also be welcomed as a wife to the Ooni of Ife Oba Enitan Adeyeye Ogunwusi in a few hours.
Responding to the information, actress Bimpe Akintunde prayed that the new woman, Ashely will be welcomed quickly so that she can welcome her in as a new wife to the Ooni of Ife in return.
"Make Olori Ashley Enter Quick, make she Welcome Me Olori Adebimpe to the Palace tomorrow, Emilokan o (it is my turn)" Bimpe Akintunde wrote.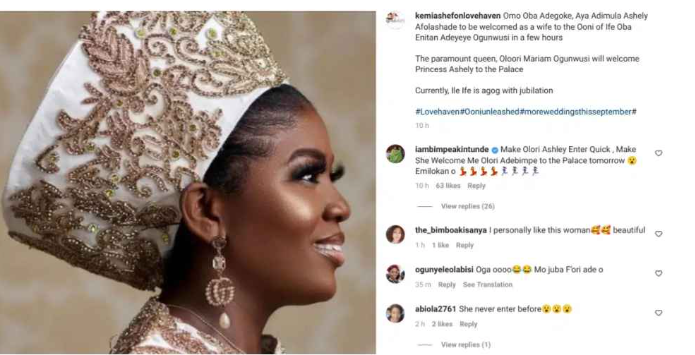 Source: TSB News

Disclaimer: No copyright infringement intended. All rights and credits reserved to respective owner(s).